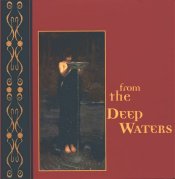 From the Deep Waters: Maidens of Myth and Mystery, Toshiyuki Takamiya
Editorial Reviews
Ingram
The lure of the siren, the comeliness of the mermaid, the elegiac beauty of Ophelia--in captivating paintings by such artists as J.W. Waterhouse, Frederick Lord Leighton, Gustav Klimt, and Edward Burne-Jones and other Pre-Raphaelites, this exquisite volume takes a mystical journey into the deep waters where romantic art flows together with female enigma and timeless mystery. 90+ color illustrations.
List Price: $17.95
Price: $12.57 & eligible for FREE Super Saver Shipping on orders over $25.
You Save: $5.38


Victorian Fairy Painting by Jeremy Maas (Editor), Pamela White Trimpe, Charlotte Gere, Martineau, Jeremy Maas
This book contains pictures by John Anster Fitzgerald, Joseph Noel Paton, Richard Doyle, and many others.
List Price: $40.00 - Price: $28.00 - You Save: $12.00 (30%)
This item ships for FREE with Super Saver Shipping. Edition: Hardcover 168 pages ; Dimensions (in inches): 0.76 x 11.36 x 9.99

This book has 14 sample pages at Amazon

Editorial Reviews
The New York Times Book Review, Sarah Harrison Smith
The best of these paintings belie the insipidity of later, more familiar renderings of fairyland. Like the Victorian era itself, they are far more complicated and ambiguous than is commonly remembered.
One of the Customer Reviews
Fairies, ghouls, and ghosts galore, February 23, 2001
Reviewer: circejmm(at amazon you can see more about this reviewer)
I came upon this book by accident. I'd been searching for antique childrens' book illustrations when - lo and behold! - this flew into my lap.
The paintings are exquisite and quite astonishing, considering they were rendered in an emotionally stifled period. There is plenty of whimsy here, but more of the fantastic. Some of the artists were said to have gone on opium binges in order to render the capricious fairy world on canvas. Regardless of how they did it, they set the stage for a new set of ideals: secret places, strange creatures, wings, fangs, claws....
For a glimpse of the featured works in this collection, check out www.artmagick.com. Then, read works like 'Midsummer Night's Dream' to get the full effect!